1. Muslim feminist plans to open liberal mosque in Britain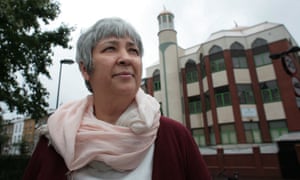 A Muslim feminist who founded a liberal mosque in Berlin, triggering death threats and fatwas, is planning to open an inclusive place of worship in the UK, saying a revolution in Islam is under way. Read more here. 
2. 

Watch Young Girls Recreate The Women's March In This Inspiring Video

Children's multimedia company GoldieBlox released a video Tuesday celebrating strong women in fields such as politics, sports and STEM as part of their #BeLikeHer campaign. 
3. Twitter Points Out How Dumb It Is To Be Mad About A Female Doctor Who
Actress Jodie Whittaker will be the first woman to portray the time-traveling alien adventurer who regenerates into a different physical form when it is old, wounded or otherwise dying. This "being" could theoretically be anything — a human, manatee or even a one-eyed, one-horned flying purple people-eater.
4. BBC Women 'Revolting' Over Gender Pay Gap
Newsnight presenter Emily Maitlis is among those who signed the letter to Tony Hall
Some of the BBC's most high-profile female personalities have demanded the corporation tackle its gender pay gap immediately, after this week's revelations about unequal pay between men and women.
5. Mum Rewrites Daughter's Sexist Homework To Challenge Gender Stereotypes About Mothers Returning To Work
A mum decided to rewrite her daughter's homework worksheet to give it a feminist twist after being frustrated by the sexist message it was sending.
Lynne Polvino, from New York, US, shared a photo of her daughter's worksheet that required the young girl to fill in the missing words. 
---
---
Leave a comment
Comments will be approved before showing up.